Family Dentistry in Aurora
Comprehensive dental care for the whole family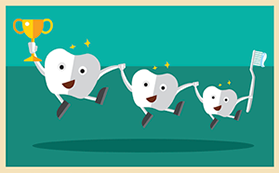 At Dr. Harry Weingarten's dental practice in Aurora, we maintain an office environment that is carefully adapted to meet the needs of each member of the family. We strive to provide the comfortable and warm experience possible, while we partner with our patients to maintain good health. We want our patients to understand that dental visits do not have to be a source of dread and anxiety. We will do our part to overwrite any such thinking with our gentle, considerate care, and effective solutions. We have dental sedation options available to help ease anxiety for patients during procedures, as needed. Trust us to provide care that is relaxing and pain-free.
We have specially-trained staff in children's dentistry to make children feel right at home and care for their growing teeth.
Preventative Dentistry
Early detection generally means a smaller problem, and is synonymous with lower costs and simpler solutions. We welcome patients of all ages to our practice for regular exams and cleanings, and we want our patients to share any concerns they may have with us during those visits. This time also allows us to make any recommendations in the best interest of patient health. To accomplish this, we base each visit on the needs of the individual. This allows us to provide preventative care, and design treatment plans for restorative and cosmetic care best-suited for each patient. We want patients to realize that their concerns are also our concerns.
We invite you to contact our Aurora dental office with any questions regarding the services we offer, any problems you experience with your dental health, or to schedule appointments for you and your family. Visit Dr. Weingarten and his Aurora dentist team to discover the things that make us different from other dental providers you may have been to in the past. We will be right there with you, providing compassionate care without sacrificing outstanding results.
---
Related Article
Aurora Family Dental
- Patients in Aurora benefit from multi-generational family dental care