Children's Dentistry in Aurora
Specially trained dental staff that make children feel right at home!
As a child, going to the dentist can be a daunting experience. At Aurora Tooth Dental, our team works together to ensure the every child's dental visit is a positive one. We are a specially trained dental staff that want to provide your child with a comfortable experience where they will feel right at home. Children should be seen by the dentist after the age of three in order to become more familiar with the office and run a primary examination of their teeth and gums. During the appointment, our dental hygienist may clean their teeth with a topical fluoride and introduce them to a proper oral hygiene routine that parents can do with their children at home. These are habits they will carry with them for their whole lives. Learning preventative care helps towards maintaining healthy and happy smiles.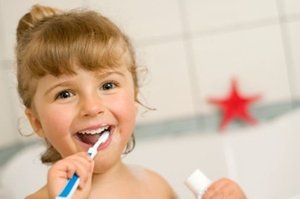 During your child's first visit the dentist will:
Examine their mouth, teeth and gums.
Evaluate adverse habits like thumb sucking.
Check to see if they need Fluoride.
Teach you about cleaning their teeth and gums.
Suggest a schedule for regular dental visits.
Parents should prepare their children for their first dental appointment by talking to them about the dentist, their experience, and how the process is expected to go. Our dental staff is specially trained to work with children and any dental anxiety they may face.
Book an appointment
with our friendly, experienced team at the Aurora dental office.